Looking forward to tending to your own homegrown flowers, plants, and vegetables? Get your tools and supplies in order to make growing season as long and as enjoyable as possible.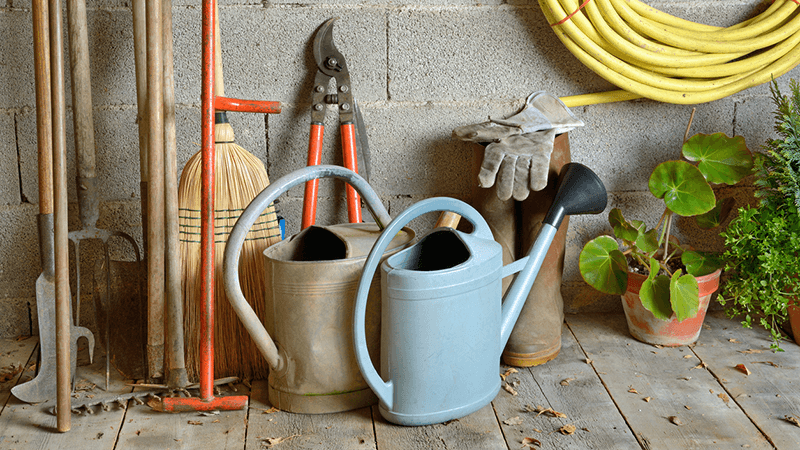 A narrow nook in a garage or garden shed offers enough space for a versatile pegboard. Use it to organize hand tools such as trowels and mini rakes. (Tip: Trace the outline of each tool on the pegboard with chalk so you know where to hang each one every time.) Include space for a gardening tote and watering cans too. In addition, a magnetic strip can organize tools that may not have a hook or handle.
Invest in the good stuff
One really good clipper with a comfortable grip will pay dividends after a long day of pruning plants. The same is true with an ergonomic rake—or any other gardening implement. If you have arthritis, use tools that are easy to grasp and that fit your ability.
Go horizontal with long-handled tools
Affordable organizational options at hardware stores are a worthwhile investment for rakes, shovels, hoes, and more. Keep a bucket of sand mixed with a little motor oil close by. You can dip in metal components of tools to quickly clean off dirt and grime.
Cover soil and mulch
Loose items (including potting soil, compost, and mulch) fit well into covered aluminum garbage pails. Keep oversized scoops nearby so you can easily measure out what you need, when you need it.
Include a writing surface
A chalkboard or dry erase board is a great spot to jot down to-dos or plant watering schedules.
Work surfaces are worth it
Even a very short stretch of inexpensive countertop placed on brackets or across two saw horses can help save your back and make gardening easier. If there's room, tuck the garbage tins of soil and other material on rollers underneath the work surface.
Install shelves and locked storage
Heavy items can easily rest on the ground but lighter ones are a good match for open metal shelves. In addition, install a locked cabinet high and out of reach to store any bug sprays or other potentially hazardous items.
Save space for seasonal supplies
What you need for the garden and what you need to store during non-gardening months will change. Include items such as big hooks for hoses, small baskets for gloves, and sealable containers for seed packets in your storage plans so you're not stressed when it comes time to stash them.
Find more gardening hacks here.
Get the most from your garden this season by staying healthy. Talk to your doctor about age-related exams to protect yourself from conditions like shingles that can interrupt your favorite hobbies.