We all love a beautiful wood finish of many parts of our homes. Yet the reality is that wood finishes require a lot of maintenance. Whether its wood siding, wood floors or wood shingles, they all require extensive care and are very susceptible to fire.
Luckily for us, there are many products that very closely mimic the look of wood but are much more durable and take a lot less maintenance. Check out these products and see if you find something that you can use on your next home project.
Fiber Cement Siding
Siding made with cement and other inert binders is tougher, more fire-resistant, and requires a lot less maintenance than wood. Fiber-cement siding is textured to look like real wood, but the material is much more stable — it won't contract and expand with changes in humidity (like wood), which helps exterior paint jobs last longer. You'll pay $6 to $11 per square foot for fiber-cement siding, installed.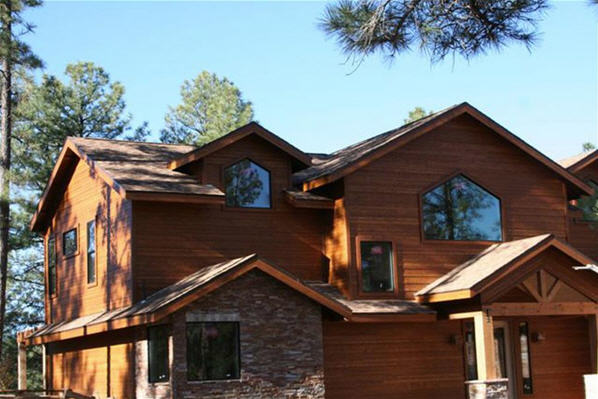 blog.builddirect.com
Fireproof "Wood"
For centuries, thick wood shingles (called shakes) have been the mark of quality construction. But shakes require regular maintenance, and their susceptibility to fire has diminished their use — some municipalities have even outlawed them. Look-alike products, such as these steel shingles, emulate the classic look of real wood yet offer maintenance-free durability and protection from fire. Interlocking steel shingles cost $4 to $8 per square foot, installed; up to $15 per square foot for steep, complex roofs.
www.bulletproofroof.com
That's Vinyl Flooring? Really?
Yup, that's vinyl. Digital reproduction technology makes these wood strip floors indistinguishable from real maple, oak, chestnut, and other woods. Plus, they're water-resistant, never need refinishing, and have a lifetime warranty. Glue-down planks come 3-feet long and in 4-, 5-, and 6-inch widths; $3 to $5.50 per square foot.
Vinyl Shingles
Copycat vinyl shingles mimic real wood for a real good reason — they're molded from real wood shingles, so grain patterns and texture are lifelike. They're insect- and weather-resistant, come in many colors, and are virtually maintenance-free — they'll never need the periodic refinishing that wood requires. They're also about one-third the price of real wood shingle siding. You'll pay $2 to $6 per square foot for vinyl shingles, installed.
www.carolinashomepros.com
Cabin Culture
Like the look of a backwoods retreat but prefer to live in the suburbs? Scrubbable, peelable wallpaper looks like chinked logs but without the Davy Crockett lifestyle (and the termites). The vinyl wallpaper is textured to enhance the look of real wood. You can get a 28-square-foot roll of pre-pasted paper for $35.99. Timber!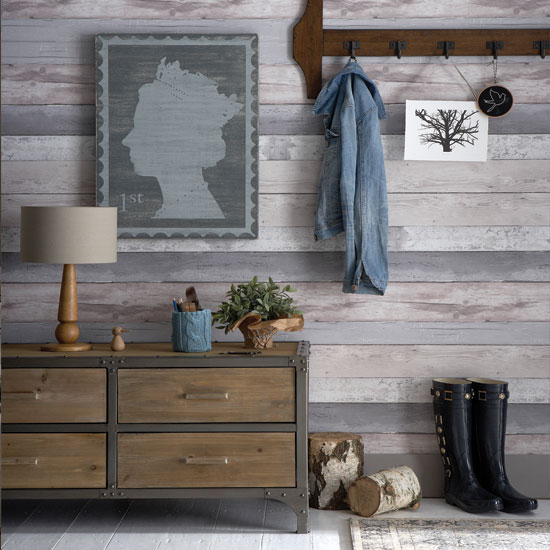 www.housetohome.co.uk
Classy Counter
Humble laminate countertops get a regal upgrade when made to look like rich black walnut — laminates use photo copies of real wood to reproduce color and grain patterns. High-tech edge finishes eliminate the seam lines that used to plague laminate countertops, completing the deception. Cost: $25 to $50 per square foot, including labor.
www.formica.com
Ceramic Tile
Ceramic tile with the look of real wood combines the best of both worlds — the toughness and waterproof properties of tile with beautiful natural grain patterns. Here, digital reproduction gives these copycat ceramic floor tiles the color and character of aged wine barrels. The tile is $2 to $15 per square foot; installation adds another $5 to $10 per square foot.
bestflooringchoices.wordpress.com
Going with the Grain
Want to stylize your wood? Grain-pattern stencils will get your DIY mojo workin'. Easier and faster than grain-patterning tools, big 24-inch-by-40.5-inch stencils ($59.95) cover lots of wall at a time. The stencil ends and sides are designed to create seamless patterns. Use wood-like colors or let your inner Warhol rip with reds, yellows, and blues.
www.cuttingedgestencils.com
Laminate Flooring
Low-maintenance laminate flooring comes in many colors and grain patterns. The top layer isn't actual wood but a digital photo under a tough, clear plastic coating. Typically, laminate planks are floating floor systems that install right over old flooring without glue or nails, making them a good DIY project. Laminates cost $1 to $8 per square foot; pro installation adds $2 to $5 per square foot.
www.unbelievableflooringanddecor.com
Elegant Garage Doors
Molded fiberglass garage doors capture the beauty of old-time carriage doors — without the warping and discoloration of real wood. Digital reproductions of grain patterns make fiberglass doors look like oak, cherry, mahogany, and many other woods. Although fiberglass garage doors cost about the same as real wood ($1,000 to $3,000 for a single-car door), you'll spend a lot less time with upkeep and periodic maintenance.
www.homeposh.com