Lake Minnetonka Annual 4th of July Celebration
Downtown Excelsior and Commons Park
Friday, July 4th 2014
8:00 am to Dusk
Cost: Free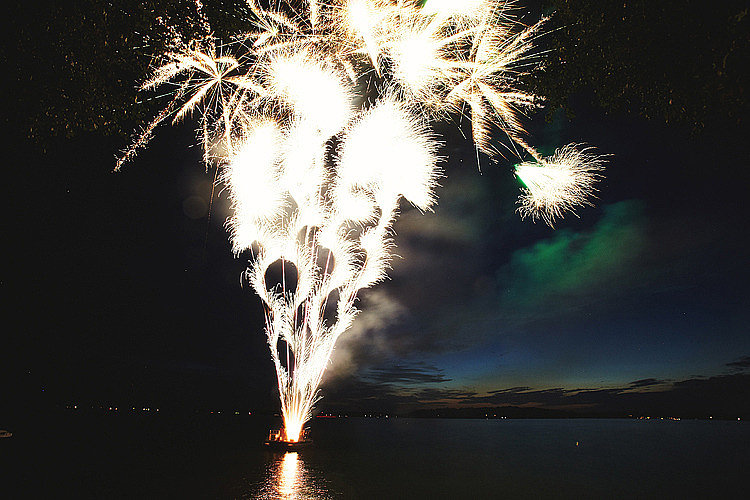 This year, we are proud to announce the Wolverines Big Band will be entertaining the crowd well into the evening. Michael Wiskus and the Lucas Oil Air Show will thrill the crowd once again with its aviation acrobatics. Then, for our can't-miss finale, we'll have our annual fireworks spectacular - the only public fireworks show on Lake Minnetonka!
Schedule
8:00 a.m. 1 Mile Firecracker Family Fun Run
8:30 Firecracker 5K and 10K runs
9:00-10:30 Sand Sculpture Contest at Commons beach
9:30-noon Popsicle Social
11:00 Water Street Kids Parade
4:00 The Ornery Bastards perform, Commons Bandshell
6:15 p.m. The Wolverines Big Band performs, Commons Bandshell
8:00 Aerobatic Air Show
8:45 Salute to our Veterans
8:50 Presentation of the Colors
9:00 The Wolverines Big Band returns to the stage
9:55 National Anthem
Dusk Fireworks Display over Lake Minnetonka
City Center Park
7700 Market Blvd.
Chanhassen, MN
July 2-4, 2014
See Times Below
Cost: Free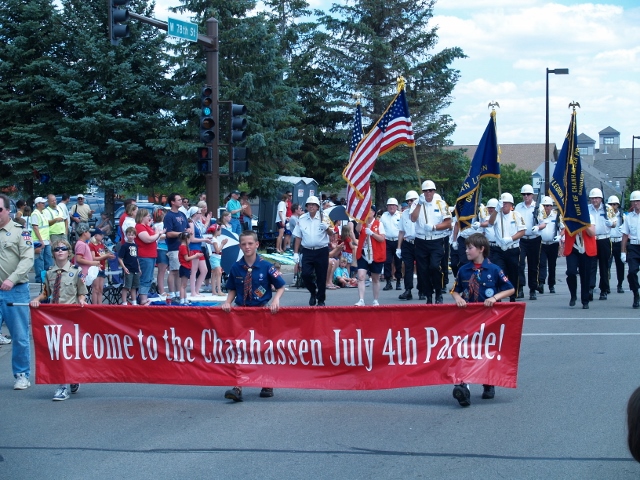 This annual celebration is a year-round topic of conversation in the community and is renowned throughout the state. Participation levels top 10,000 people per day.
This year's activities are scheduled for July 2, 3, and 4.
All events are held in downtown Chanhassen at City Center Park, 7700 Market Boulevard, unless noted otherwise.
July 2nd Highlights
3:00-10:00 pm Family Night at the Carnival
July 3rd Highlights
10:00-11:30 am Twins Baseball/Softball Clinic, Ages 6-9
11:30 am-1:00 pm Twins Baseball/Softball Clinic, Ages 10-16
3:30 pm Carnival Rides
4:30 pm SW Metro Chamber of Commerce Business Expo
Taste of Chanhassen
Rotary Beer & Wine Garden
Live Music featuring The Medicine Show Music Company
Kiddie Games & Entertainment
Pony & Camel Rides
3-on-3 Basketball Tournament sponsored by the Chan Rec Sports Program
5:00 pm Live Music featuring Ragtown
5:30 pm Kiddie Parade
7:00-11:00 pm Street Dance featuring CasaBlanca Orchestra (CBO)
7:30 pm 3rd Lair Summer Skateboard Series Competition
July 4th Highlights
7:00 am Adult Fishing Contest (Lake Ann)
10:00 am Chanhassen Rotary Classic Car Show
Taste of Chanhassen
Rotary Beer & Wine Garden
Carnival Rides & Games
11:00 Kids Fishing Contest (Lake Ann)
Sand Sculpture Contest (Lake Ann Beach)
Medallion Hunt (Lake Ann Concession Stand)
Bingo sponsored by the Chanhassen Senior Commission (City Center Park)
12:00 pm Live Music featuring American Bootleg
2:30 pm Parade (Downtown Chanhassen)
10:00 pm Fireworks (Lake Ann Park)
Round Lake Park
16691 Valley View Road
Eden Prairie, MN
Friday, July 4th, 2014
7:30 am to 11:00 pm
Cost: Free
Eden Prairie has a full day of fun planned to celebrate the Fourth. Along with the beach, splash pad, canoeing and paddle boarding, you can enjoy activities like a K-9 demonstration at 2:00 pm and fun with inflatables and interactive games from 2:00 pm until dusk.
Other activities include a Kiddie Parade at 2:30 pm, Face Painting and Henna Artist from 3:00 pm until dusk, Beer and Bingo from 4:00 pm until 9:00 pm, BMX Demonstrations throughout the afternoon and live music all afternoon long.
The day ends as the Fourth of July should end, with a fireworks demonstration at 10:00 pm.