You may have noticed the new-ish trend of Tiny Houses. It seems that you can't turn on the TV or open a housing magazine without seeing a piece about Tiny or Small homes. But where did this movement come from? Who does it? How can I get one?!?
Source: Tinyhousegiantjourney.com
Here's some background for you:
Back in 1978, the average size of a new, single family home was 1,780 square feet. Jump ahead to 2013 and that home size also increases to 2,662 square foot. While the average family size has decreased in that time, homes kept getting bigger.
source: tinyhouse-design.com
The small house movement seeks to return to simpler living with homes that are less than 1,000 square feet. And, if you really want to split hairs, there is a special distincition between "Small" homes which are 400 to 1,000 square feet and "Tiny" homes which are anything smaller than 400 square feet.
Source: Tinyhousepins.com
Sarah Susanka has been credited with starting the recent countermovement toward smaller houses when she published The Not So Big House in 1997.
Source: tinyhouseliving.com
Tiny houses on wheels were popularized by Jay Shafer who designed and lived in a 96 sq ft house and later went on to offer the first plans for tiny houses on wheels, initially founding Tumbleweed Tiny House Company, and then Four Lights Tiny House Company.
source: UShomeandgarden.com
In 2002, the Small House Society was founded as "a cooperatively managed organization dedicated to the promotion of smaller housing alternatives which can be more affordable and ecological."
Source: fyi.tv
Hurricane Katrina was a catalyst for more attention to be driven towards the movement on a nation scale. Marianne Custato developed Katrina Cottages as an alternative to the FEMA trailers that were offered to people who were affected by the hurricane.
Source: Tinytexashouses.com
The movement continues to receive increasing media coverage with television shows such as Tiny House Nation and Tiny House Hunters. In addition, the possibility of building your own home has added to the movement, with builders/buyers option to craft their dwellings out of reclaimed or found objects which allows the builder to save money on supplies and materials. A particularly niche for tiny houses is to build them on wheels. Tiny houses on wheels are often compared to RVs; however, tiny houses are built to last as long as traditional homes, they use traditional building techniques and materials, and they are aesthetically similar to larger homes.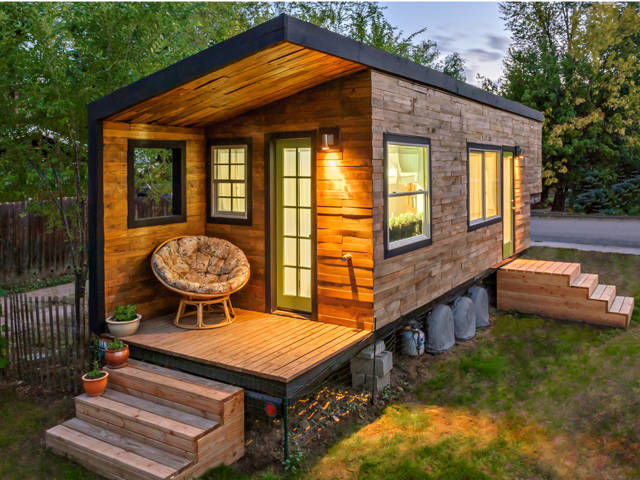 Source: Countryliving.com
On the whole, tiny homes only make up a very minimal subset of real estate transactions where the dwelling is the primary living unit. The majority of these tiny structures are purchased and built for use as guest cottages, offices, or play houses.
Source: Tinyhousewoon.com