When getting ready to put your home one the market, sellers will do a myriad of project to help show their home in its best light. These updates include everything from changing out old brass hardware and fixtures, fresh paint and new flooring to kitchen and bath remodels.

The first thing clients say when their projects are done is "I wish we would have done it sooner!" It can be a total bummer to finally update those countertops with your long-wished for granite, only to turn around and sell your home.

Don't fret! There are some great ideas out there to update, upgrade, and repurpose your kitchens!

The current trend is to use found objects that are either salvaged or reclaimed to put a more personal spin on your dining space.

Websites like EBay and salvage stores offer brilliant options for materials. This homeowner saved some old chalkboards from an elementary school and repurposed them as countertops. According to Houselogic.com, "The blackboard's smooth, honed surface is ideal for a countertop, but slate must be sealed periodically to prevent staining."
Here is another whimsical option! Bowling alley lane boards:
The tips here are: "Give your kitchen a playful spin with hard maple countertops made from reconditioned bowling alleys. They're made with edge-laminated boards so they're especially tough; you can find them at reclaimed lumber specialists. A section 42 inches wide, 60 inches long, and 2.5 inches thick is about $250 (be sure to ask for sections with arrows and other bowling marks). Measure counter height carefully to account for the thickness."
Everyone is loving the farmhouse sink trend right now! Here's how you can get the look: "A double-bowl, industrial-sized, stainless steel sink is a hard-working addition to this light and airy kitchen. The home owner bought it on eBay for $150. An item this big will dominate your kitchen (it's 4 feet long) so make sure it'll fit your kitchen design before you buy. Heads up: Take careful measurements to ensure any built-in backsplash fits beneath your window sills."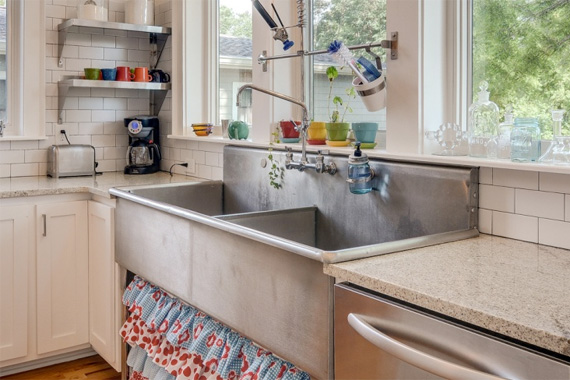 Credit: Interior Design by Pippa Gore


Aren't in love with your kitchen cabinets anymore? The golden oak getting to you? Resurfacing them is much more cost-effective. Current trends are leaning towards two toned options like this: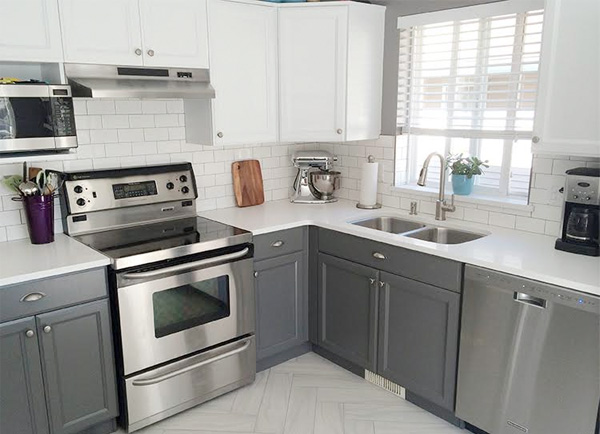 Image: Nicole Duff
Nicole Duff had this to say about her DIY project, ""All in all, we ended up spending about $300 on everything," she says. And when the gray and white cabinets are no longer trendy? "We can just paint them again!"
What have you done to update your space?!?