Wayzata Boo Blast
Lake Street, Wayzata
Sat., Oct. 25, 2014
11:00 am to 3:00 pm
Cost: Free
Wayzata celebrates Halloween Saturday, October 25 from 11-3 pm! Trick-or-Treat and enjoy spooky specials and family-friendly activities all around town!

Activities:
The TROLLEY will be back in town!!! Route TBD.
Lunds of Wayzata will be hosting FREE Kids photos, FREE Hot Dogs, FREE Soda, FREE chips, FREE Ice cream, and FREE music and entertainment provided by "Kids Dance"
Get your picture with a Gargoyle and pick-up a FREE Popcorn Ball at Lindblom Jewelers. Don't forget to bring your camera!
Business Discount coupons for adults at the UPS Store of Wayzata
TCF Bank Tent with games & treats
Visit "Newbie" the shoe character at Schuler Shoes
Trick-or-treat up and down the Village Shoppes
FREE ginger snaps & caramels at Judd Frost/Frost & Budd
Scare Hair at Salon Marquee
$25 gift certificates for Moms, along with a FREE Photo shoot and trick-or-treat atMonique of Switzerland
Title Boxing Club Open House with Treats from 12 pm – 3 pm and Special Halloween Class from 1 pm – 2 pm for adults and children of all ages
Terror Trot
Lake Harriet Bandshell
4135 W Lake Harriet Pkwy
Minneapolis, MN 55419
Sat. Oct. 25, 2014
10:00 am (arrive at 9:15 am)
Cost: Race Day Registration $40 ($35 cash)
The Terror Trot benefits Childrens Hospitals and Clinics of Minnesota. Come join the inaugural Halloween run around Lake Harriet, and the event will be held at the Lake Harriet Bandshell. Families and people of all ages are welcome to join. We highly suggest bringing your best Halloween costume (just make sure you can run in it)!
The Soap Factory
514 2nd St. SE, Mpls
Thurs. Oct. 23rd - Sun., Nov. 2nd, 2014
6:00 pm to 11:10 pm
Cost: $25-$27
With no map, no guide, and no hope, where will you turn? Who will you trust? Don't worry, you can always say "Uncle"...
Descend into the nightmarish depths of The Soap Factory's Haunted Basement and explore the terrifying world of Unhinged. An annual tradition 8 years running, The Haunted Basement is bigger and better than ever with 2014's Unhinged production. The creative team at The Soap Factory has outdone themselves, creating an all-new, terrifying experience for visitors.
Can't muster the courage to descend into The Haunted Basement? Join us October 19th and 26th for 'Fraidy Cat tours. These lights-on, no-scares tours of The Haunted Basement are part artist talk, part behind-the-scenes tour and an incredible opportunity to see all of the artistry behind 2014's Unhinged. 'Fraidy Cat tours on 10/19 and 10/26 from 11am - 1pm, tickets $10 at the door. We recommend coming between 11:30 - 12:30, because the 11:00 tours fill up fast!
7410 Hwy 212, Chaska
Fri-Sat., Oct. 24 & 25, 2014
6:30 pm to 11:00 pm
Cost: $20-$30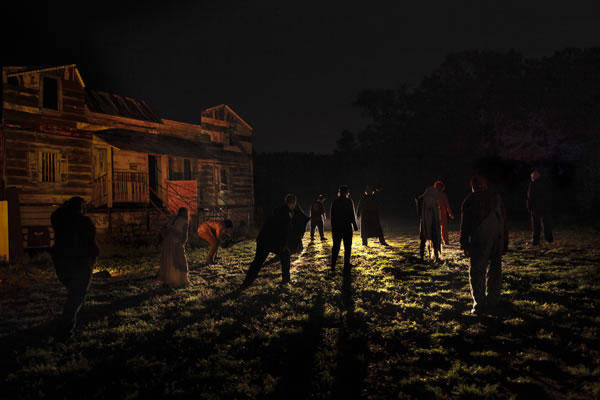 Scream Town is one of the best Haunted Attractions in the Twin Cities. Our attractions are built with quality and the best possible scares in mind. Our location is unbelievable! We didn't end up here by accident. Scream Town is located just perfectly outside the suburb atmosphere and FEELS like you are in the middle of nowhere. Just the drive onto the property is widely eerie. We hire actors that are crazy about Halloween and scaring the pants off people. We work year round to make this event something guests will talk about for years.

Great Food Available:
Taco in a Bag
Pizza
Burgers
Pork Chop on a Stick
Cheese Curds
Cookies
Mini-Donuts
Hot Cider & Hot Chocolate
and much more!