If you have kids, chances are you'll be keeping an eye on who their friends are. Studies show that friends exert a huge influence on your children. How can you be sure that your kids are making good choices in friends? By keeping a close eye on them. And what better way to do that than to have your home be the place where all the kids want to hang out. Below we've gathered some great ideas that you can incorporate into your home to be the "Go To" home for your kids and their friends.
Play Up Your Backyard
Incorporate some fun play spaces in your back yard. Kids can burn off energy and have a ton of fun in this back yard. You just provide the lemonade.
Use That Bonus Room!
If you have a bonus room over your garage, maximize that space for your kids. A foosball table, pool table and dart board make this a room everyone will want to hang out in for hours.
Accomodate Sleepovers
Be the "It" place for sleepovers. Yes, you'll be sure to lose some sleep but it's better than losing sleep wondering where you kid is and what kind of trouble they could be getting into!
Movie Night At Home
Invite the gang over for a movie and some popcorn. Who wouldn't want to hang with their friends, or the whole team, in this room?!
Bring On The Pool
A backyard pool is all about fun and friends. Gather all the neighborhod together at your house for fun in the sun. And why should the kids have all the fun? You'll love it too!
Gather 'Round The Fire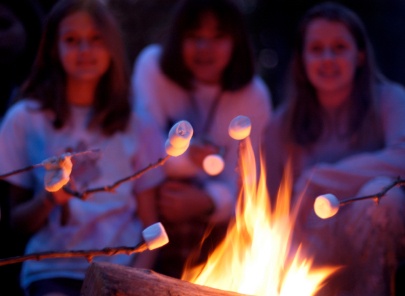 Grab some sticks and marshmellows and head out to the fire. Add a guitar and some ghost stories and you have the makings for a great Bonfire!
Finish That Basement
If you have an unfinished basement, now is the perfect time to finish it off and make it a gathering spot for your kids. Include space for fun games like air hockey and foosball, provide a table for board games or crafts, include a TV for video games and movies, and be sure to include a microwave and a refrigerator for snacks and refreshments.
Gather Round the Table
You don't need to break the bank with major renovations in order to be the place where all the kids want to go. Just provide a spot for them to gather like a big kitchen table. Have everyone come to your place for homework, games, or just to have a snack and some friendly conversation.
Use your imagination and you'll be sure to find plenty of fun spaces for your kids and their friends. Do you have any great ideas for fun spaces in your home? Let us know, we'd love to hear it!