When I was little, decorating for Halloween meant that you put a candle in your jack-o-lantern and placed it on your front stoop. To say that Halloween decorating has exploded in the past few years is a massive understatement! If you want to partake in the fun but not break the bank, then check out some of these cool and cheap DIY ideas.
Paper Silhouettes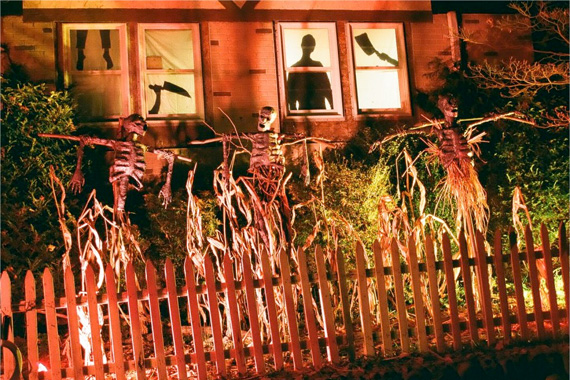 Credit: Noah Fentz
 If you want to keep the fun quotient high but the cash outlay low, paper window silhouettes are wickedly cool. Make cutouts from black paper, stick them on your windows, and back them with a translucent shade or sheet. Turn up the background lights to create a whole-house luminary. Need artistic help? Download these
silhouette templates
.
Eyes In The Bushes

Want a great low-cost lighting idea? Take cardboard cores from paper towels and toilet paper rolls, cut out a pair of fanciful eyes, and light them up with a glow stick (about $2 for a pack of 4); glow sticks come in many colors. Strategically place them in bushes and trees for that "I'm watching you" touch of creepiness. Try covering the cardboard rolls with paper and drawing in a set of eyeballs.
Light A Ghostly Path
Credit: FancyHomeDesign.com
Save up those milk jugs and create a lighted pathway of ghosts. Using a thick, black sharpie pen, draw on scary or silly ghost faces. Cut a hole though the back of each jug then push 5-7 white light bulbs from a string of indoor/outdoor mini lights. String several together to make the ghostly path as long as you'd like.
Spooky Spectre

Grab some sturdy leather gloves, wire cutters and some standard chicken wire and you've got the makings of a cool ghost. Shaping it may take some work but the end result is pretty cool when seen from a bit of a distance.
Spiders Galore

What's creepier than a creepy crawly spider? Lots of creepy crawly spiders! Buy a bag (or two) of plastic spiders from a Halloween supply store and hang them from threads and attach them to every surface. Then sit back and watch the fun as everyone tries to fling them off of themselves.
A Pumpkin Says It All
Of course, you can still put out that Jack-O-Lantern on your front stoop. Carving a pumpkin is the ultimate DIY Halloween decoration. But even there, things have gone to the extreme as you can see below.

So, get those creative juices flowing, put on your thinking cap and get ready to be the "it" house this Halloween.
Source:
Houselogic